Sep
7
Arkansas Bride Spring/Summer 2013: Time is Running Out to Submit Real Weddings
Don't miss the chance to show off your incredible photography, event design handiwork or your entire wedding in Arkansas Bride.
Submission deadline for Real Wedding CDs and photos for editor's favorites is Sept. 21!
Here's what you need to know:
Please don't submit anything that you've already submitted to another magazine. We only feature exclusive content in print. We have an enormous print and online audience, so tap into it! If we can't print 'em, we'll use 'em online!
Real Weddings: Please only submit weddings that have happened from Dec. 2011 to present. Print and use these instructions for Real Wedding submissions.

Shortcut: Email a link to your favorite online wedding album(s) to Info@ArkansasBride.com. We'll let you know after viewing the album if you should send in a CD or a few images for use in print.
INSIDER tip: We often use photos of inspired ideas and cakes in print from the mailed-in CDs that didn't make Real Weddings, so it's worth sending a CD in even if you think the wedding may not make the cut. Plus, we share tons of unused submissions right here on our blog.

Editor's Favorites: Click here for instructions (PDF).
Blog submissions: It's not print, but it's still where 1,000+ bridal visitors come daily for the scoop on Arkansas weddings. If you submit for print and we can't use it, we'll try and use it ASAP on the blog. If you haven't been featured on the blog yet, it's cause you haven't submitted anything! Find out how to submit your wedding to the blog here.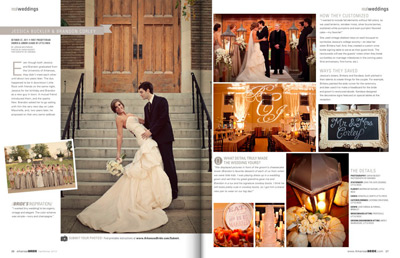 Arkansas Bride Fall/Winter 2012
Permalink