Dec
17
What it Costs to Get Married in Arkansas
Planning for your big day can quickly result in a lot of budget questions. When it's time to put Pinterest to paper, you're probably going to wonder how much dough cake for 100 guests is going to cost, or whether you got a good deal on that perfect reception venue you booked.
Wonder no more. We've surveyed a random sampling of wedding vendors across the state and put a price tag on some of the most common services you'll consider during the planning process. And we supplemented these numbers with average costs from wedding industry analysts for a bird's eye view at the economics of being an Arkansas bride.
(Want to read this in a tablet-friendly format? Check out our digital edition of Arkansas Bride.)
The Dress

That got-to-have dream wedding gown? It's going to cost about $973* — or at least that's the average price Arkansas brides paid in 2012 (before alterations).

Meanwhile, accessories like headpieces, veils and garters add about $100 to the bill – although these items can cost much more depending on style and brand.
BUDGET TIP: Don't be surprised to find your costs exceed the averages in this story by 50-100 percent. Designer labels, luxury and custom products and experienced vendors cost more, plain and simple.
Wedding attire for him averaged $158* for a tuxedo or suit rental in 2012. For accessories like cuff links, cummerbund, tie and shoes, the state's grooms rang up $78* on average.
We believe the rustic-décor obsession has a lot to do with the low averages we found in wedding floral spending. Our calls to Arkansas florists resulted in an average of $1,750-$2,500 for a small church wedding with three bridesmaids and three groomsmen and a reception for 100 people. Analyst figures weren't far off in assessing that with bouquets, boutonnières, reception and ceremony decorations, flower girl blooms and more, Arkansas brides paid florists $1,693* in 2012. But brides opting for luxe décor and wanting more unique and elegant weddings will spend a lot more to fill their venues with gorgeous blooms.
PICK YOUR POSEY: Stay open to a color palette instead of specific flower types and your floral expert might be able to get you more blossoms for your buck.
For a grand getaway in a limo, expect a rental fee of about $385.* At least that's what 10,248 Arkansas brides paid on average in 2012. Rather ride away in an antique car or horse carriage? That'll run you about $406.*
Many venues blend catering costs and rental fees, charging a per-person rate. Hotels, conference centers, restaurants and country clubs are among the venues that often require brides to spend a minimum amount on food and drink.
At these venues, Arkansas brides spent an average of $4,042* on reception food service.
On top of that, Arkansas wedding bar tabs averaged $1,996* in 2012.
We asked some bakeries around the state to share the prices per serving for basic flavors and icing, and for fancy fondant or custom cakes.
Basic: $3-$4/per serving
Fondant: $4-$5/per serving
DON'T BE SURPRISED: Those surveyed said they charge extra for delivery – about $40 or more – depending on the distance.
Ceremonies
Based on our conversations with staff members of several chapels and outdoor venues, brides can anticipate a fee of about $913 for an evening ceremony accommodating about 100 guests, with rehearsal access the night before.
Garden venues cost just a bit more than chapel rentals (depending on church membership), as more setup is involved.
Whether you opt for Justice of the Peace, ordained friend or family member, pastor or minister, rabbi or priest, Arkansas brides paid about $160* for a ceremony officiant in 2012.
Receptions
Unlike sites that require brides to purchase packages or use an on-site caterer, there are many Arkansas locales that brides can simply rent. Here's a snapshot of some average rental fees Arkansas venues charge (remember, food and décor costs are not included):
Historic Homes/Buildings: $1,308
Museums/Galleries: $1,833
Corporate or Private Rooms/Residences: $1,438
MAKE SURE TO ASK: Getting married on Saturday? So is everyone else. Opt for a less common day – like Friday or Sunday – to get a discounted rate on your dream venue.
Photography

Your photos will be the main mementos you reach for to remember the day you said, "I do," and trust us, your cousin's point-and-shoot isn't going to do your big day justice.
Based on our conversations with photographers across the state, prepare to spend about $2,310 on a basic wedding photography package.
Expect about $4,740 on an ultimate photography package with bound volume, digital copies, prints and/or enlargements and engagement session.
BIG-DAY SCREEN DEBUT: Arkansas brides spent an average of $812* for videographers to capture their weddings on camera in 2012.
The following rates for ceremony and reception music were averaged from a random sampling of Arkansas venders.
Ceremony music (two hours)
String quartet: $800
Harpist: $400
Reception music
DJs (includes four hours of music and emcee service and basic audio/lighting equipment): $658
Well-known party bands (includes three hours of live music and emcee service and audio equipment): $2,775, plus travel fees, if applicable
And The Total Comes To…
On average, Arkansas brides spent $21,128* on their 2012 weddings
Here's a regional look at average wedding costs** for couples that live in or near:
Eureka Springs: $15,427 to $25,711
Fayetteville: $16,100 to $26,833
Hot Springs: $15,763 to $26,271
Jonesboro: $15,475 to $25,791
Little Rock: $16,580 to $27,634
Pine Bluff: $15,042 to $25,070
Rogers: $16,532 to $27,554
Texarkana: $15,235 to $25,391
YOU WANT TO INVITE WHO? A single guest could add or remove about $158* to the overall cost of a wedding.
* Data from TheWeddingReport.com's 2012 Wedding Statistics & Industry Market Estimates for Arkansas.
** Regional data collected from CostOfWedding.com.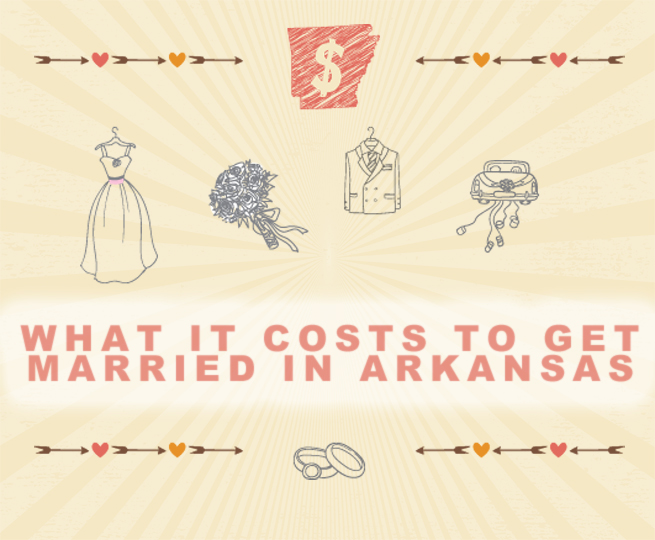 C. Waynette Traub
Permalink