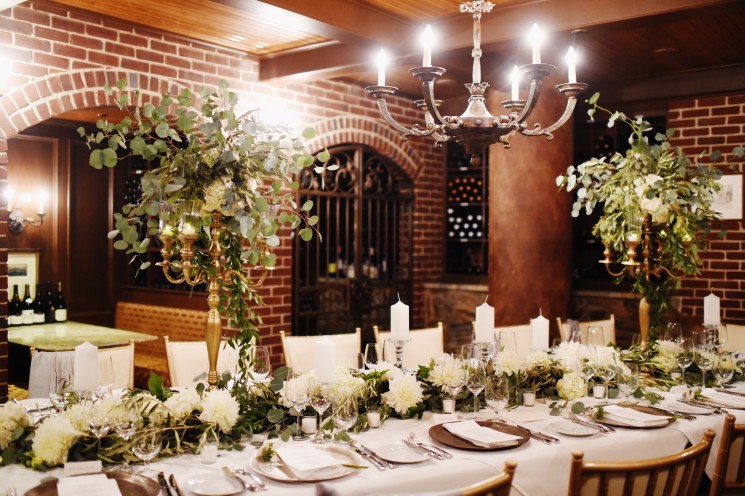 The minute we spotted this elopement photographed by Stephanie Parsley we were IN LOVE. That pantsuit, that couple, those flowers... all of it is to-die-for. Erin and Jared Coleman have us all thinking maybe elopements really are the way to go.
The Couple
Erin & Jared
The Ceremony
Family home, Little Rock
The Reception
The Capital Hotel, Little Rock
"I woke up very early on my wedding day in order to get our wedding license! A quick tip to those planning on eloping: If you want your wedding to be a secret, you have to get your license the morning of, as they are published in the next day's paper. Afterwards, I went on a brunch date with my sister at Meteor Cafe so I could give her a little love letter for being my Maid of Honor. She has been my roommate for the last two years, and it was bittersweet realizing we wouldn't be sharing a home anymore. We laughed and cried, and made plans for lots of future sleepovers."
"I would tell you that planning was relatively low-key, but my mother might tell you otherwise," Erin says. "She was my wedding planner extraordinaire, and helped coordinate the entire thing. Venues and vendors are booked so far in advance these days, we were very fortunate to have the place we wanted available. Having the ceremony on a Friday helped matters, as well. One of the reasons we wanted to elope is because we didn't want to be caught up in stressful wedding planning for six months to a year, we'd rather spend that time enjoying our married life together."
"I work as the Lead Stylist for Dillard's Corporate Advertising, so I've never been scared to make a statement when it came to my fashion choices," Erin says. "I've always been in love with the Givenchy dress that Audrey Hepburn wears in the movie Sabrina, and had always envisioned myself wearing a modern take on that. I actually found my designer through Instagram after one of my favorite fashion bloggers had worn one of her designs. I found the suit and knew it would be perfect. I actually emailed it to my mother in red a few years ago saying that I would want to wear it if I ever got married. When we started to plan our elopement, I looked to see if the style was still available, and lo and behold it was! Fate, I tell you."
"[On my wedding day] Jared surprised me with a beautiful bouquet of flowers, and the sweetest letter talking about our new life together. That was so special. I also think what really made our wedding day unique, was the low-key atmosphere surrounding the big day. Jared started his day with a pre-matrimonial golf round with the men in his family, and I grabbed a few last-minute honeymoon outfits at Dillard's. We didn't want anyone to stress, we just wanted to celebrate with our families, and avoid the formality that is so prevalent in today's weddings. We wanted our wedding to be more about our commitment to each other, and less about a giant party."
"Our ceremony was perfect. It was very intimate with music played my my cousin, Jack Dowden. It's actually a tradition [in my family] to get married at home then run off, that's what my mother and aunt did, also. We loved the idea of surprising our friends with the news, then celebrating later with those we hold dear! We love Bronson Duke, the pastor that officiated our wedding for his sense of humor and real life application. We laughed and cried during the ceremony, and had a champagne toast at the end."
"We had a beautiful intimate wedding dinner in the wine cellar of The Capital Hotel with our families," Erin says. "The tables were decorated with with long garlands of cream and white hydrangeas, playa blanca roses, anemones and italian ruscus with gold candelabras accented with fresh olive foliage and lots of candlelight. We told our closest friends the day of, and they met us afterwards for celebratory cocktails! We even had a few friends book flights the day of and surprise us after the reception."
The Details
Photography: Stephanie Parsley Photography, Little Rock
Venue: The Capital Hotel, Little Rock
Florals: Tipton & Hurst, Little Rock
Catering and Groom's Pie: One Eleven at The Capital Hotel, Little Rock
Cake: Blue Cake Company, Little Rock
Dress: Alexia María, San Diego, California
Tux: Paul Morrell Formalwear, Little Rock
HMUA: Kristy Pruitt
Permalink