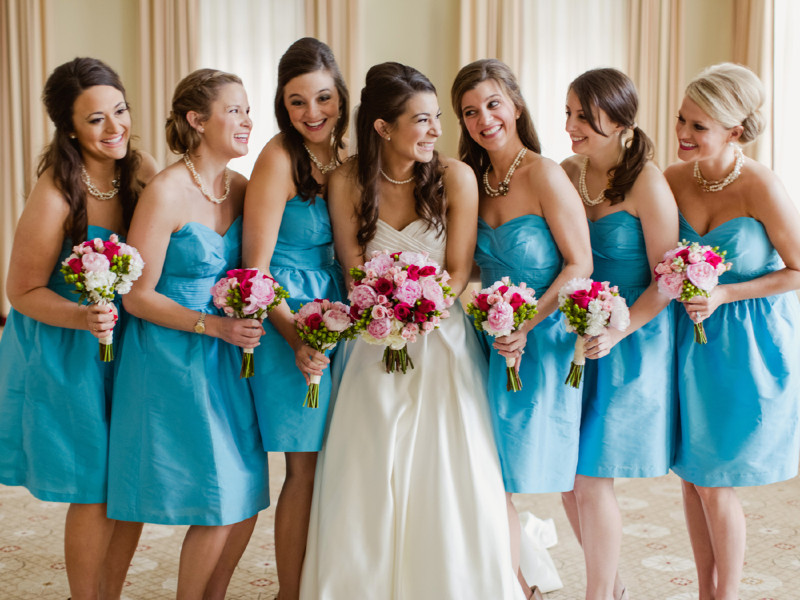 Emily Middleton & Benjamin Williams
March 23, 2013 • Alda's Magnolia Hill, Little Rock
Photos by Christopher Nolan Photography
Although Emily Middleton and Ben Williams both grew up in Texarkana and lived just less than a mile a part, their paths were a little slow to cross. On the first day of her freshman year and Ben's sophomore year of high school, they ended up in the same Gifted & Talented class. Little did they know, in just a few short months, the two would become inseparable. Fast-forward three years of high school, five years of long distance and two years of living in the same town again, the couple would finally take the next step in their relationship. It was during a relaxing beach trip when Ben finally got down on one knee and popped the question. "I cried, smiled, hugged him and couldn't believe my favorite person in the world had really just asked me to marry him," Emily says. "I don't even remember if I actually said yes, but I know there was never a doubt in his mind what my answer would be."
BRIDE'S INSPIRATION
Emily wanted the wedding to be a reflection of joy and the excitement they felt about finally getting married. With that in mind, the décor showcased a level of Southern elegance with candles, mercury glass vases and assorted pink roses and peonies. The color palette included a pop of turquoise too.
VOWS THE WOW
The couple wrote their own vows and a friend of Emily's painted them onto canvases, which were displayed during the wedding reception. "Those same canvases are now hung in our home as a constant reminder of our wedding day promises," Emily says.
HOW THEY CUSTOMIZED
There's no denying that both Emily and Ben each have a sweet tooth. Homemade pies from Bobby's Country Cooking graced the groom's table, in addition to cupcakes and a cookie bar with an assortment of homemade cookies for guests to take home. "The [cookies represented] the groom's favorite, bride's favorite, the groom's mom's favorite and the bride's mom's favorite," Emily says.
Emily also did something special for her bridesmaids: everyone received a one-of-a-kind necklace as a token of her appreciation. "I contacted their moms many months in advance of the wedding and collected heirloom/family pieces of jewelry and had necklaces made with them," she says. "It's not just another necklace but an elegant, timeless and sentimental piece."
MEMORABLE MOMENT
At one point, the minister at the wedding ceremony had the couple turn around and look out at all of their friends and family who were there to witness this exciting day in their lives. "Really taking that moment to see everyone who traveled from so far away and from so many different parts of our lives all in one room was so overwhelming," Emily says. "We both got a little teary eyed and felt so blessed to have each guest there."
| | | |
| --- | --- | --- |
| | THE DETAILS | |
| | Photographer | Christopher Nolan Photography, Little Rock |
| ♥ | Florist | Tipton & Hurst, Little Rock |
| | Rentals/Lighting/Venue | Alda's Magnolia Hill, Little Rock |
| | Catering/Drinks | Catering Creations, Little Rock |
| ♥ | Cakes | Cupcakes On Kavanaugh, Little Rock |
| | Stationery | Hobart's Paper Creations, Benton |
| | Band | Brenda & Ellis Band, Little Rock |
| ♥ | Bride & Bridesmaids Attire | Low's Bridal & Formal, Brinkley |
| ♥ | Groom's Attire | Paul Morrell Formalwear, Little Rock |
| | Jeweler | Peach & Co, Little Rock |
| | Hair | Studio A & Company, Little Rock |
| | Transportation | Trolley, Arkansas Destinations, Little Rock |
| ♥ | Wedding vendor we love | |
Permalink